Monitor de muestras TruFlo
Medición continua de caudal en tiempo real
Elimina las conjeturas
Alarma sonora de fuera de intervalo
Reduce las repeticiones de muestra
Ideal para la introducción de muestras mediante la bomba peristáltica o aspiración natural
Adecuado para todos los modelos para ICP-OES e ICP-MS
| Part Number | Description |
| --- | --- |
| 70-803-0643 | TruFlo Sample Monitor 0 - 4.0mL/min |
| 70-803-0774 | TruFlo Sample Monitor 0 - 0.05mL/min |
| 70-803-0788 | TruFlo Sample Monitor 0 - 1.0mL/min |
| 70-803-0890 | TruFlo Sample Monitor for HF 0 - 4.0mL/min |
| 70-803-0892 | TruFlo Sample Monitor for HF 0 - 0.05mL/min |
| 70-803-0891 | TruFlo Sample Monitor for HF 0 - 1.0mL/min |
¿Alguna vez ha tenido que repetir el análisis de una muestra debido a:
Un nebulizador bloqueado?
Un tubo peristáltico desgastado?
Una presión incorrecta de la abrazadera del tubo de la bomba?
Con la pantalla digital del monitor de muestras TruFlo, siempre sabe cuál es la velocidad real del caudal líquido de muestra al nebulizador. De este modo se mejora la reproducibilidad cotidiana de los resultados y se reduce la necesidad de repetir las mediciones a causa de un nebulizador bloqueado, un tubo de bomba desgastado o una sujeción incorrecta del tubo de la bomba. Y la ruta de la muestra de vidrio borosilicatado garantiza que no haya efectos de memoria o contaminación de la muestra. El monitor TruFlo puede incluso activar una alarma sonora si el caudal líquido de muestra está fuera de los límites especificados.
TruFlo es también ideal si se basa en la aspiración natural del nebulizador. Numerosos operadores, en especial los de ICP-MS, utilizan la aspiración natural para eliminar los efectos del ruido de la bomba peristáltica de sus mediciones. Con TruFlo, siempre sabe cuál es el caudal líquido de muestra y puede aplicar acciones correctivas de inmediato si se produce algún cambio. También puede registrar el flujo de muestra y verificar que utiliza el mismo flujo día tras día.
El flujo de muestra real aparece en la pantalla digital incorporada del monitor TruFlo. Además, también puede visualizar en su ordenador un gráfico del flujo versus tiempo.

Puede fijar los límites superior e inferior del intervalo del flujo de muestra aceptable.

Puede recibir un aviso en la pantalla y también activarse una alarma sonora, si el flujo de muestra rebasa el intervalo aceptable.
Esto puede ocurrir si el flujo se ve restringido a causa de un bloqueo o una fuga o cuando el tubo de la bomba se desgasta. Los tubos de la bomba suelen reemplazarse demasiado pronto o demasiado tarde.

Siempre sabe cuál es el flujo de muestra real y no necesita preocuparse por convertir las revoluciones de la bomba al flujo de muestra.

La visualización del flujo en tiempo real le permite optimizar la presión en el tubo de la bomba peristáltica y le ayuda a maximizar su duración y mejorar la precisión analítica. Si existe demasiada presión se acelerará el desgaste de la bomba y se producirá más ruido, pero si la presión es muy poca el flujo será irregular. En la pantalla anterior la abrazadera se apretó media vuelta en cada flecha.
Especificaciones de TruFlo
Ruta de muestra: vidrio borosilicatado. Adecuado para soluciones acuosas, disolventes orgánicos y gran parte de los ácidos. No adecuado para ácido fluorhídrico (HF).
Sensor de flujo: sensor termoeléctrico no invasivo
Intervalo de flujo medible: 0 – 4,0 ml/min
Intervalo de flujo calibrado: 0,2 – 4,0 ml/min. TruFlo puede utilizarse con flujos de muestra inferiores a 0,2 ml/min con muy buena repetibilidad; sin embargo, la precisión puede estar fuera del intervalo especificado.
Solución de calibración: agua desionizada. TruFlo muestra gran eficacia a la hora de identificar cualquier cambio en el flujo de muestra con soluciones no acuosas, aunque la precisión absoluta de la lectura de flujo puede estar fuera del intervalo especificado.
Precisión de la lectura de flujo: +/-5% (con agua desionizada, dentro del intervalo de flujo calibrado).
Volumen interno: 0,13 ml
Peso: 300 g
Tamaño: 100 x 40 x 60 mm
| Part Number | Measurable flow range (mL/min) | Calibrated flow range (mL/min) | Internal volume (mL) | Sample path |
| --- | --- | --- | --- | --- |
| 70-803-0643 | 0 - 4.0 | 0.2 - 4.0 | 0.12 | Borosilicate glass + PEEK |
| 70-803-0774 | 0 - 0.05 | 0.001 - 0.05 | 0.033 | Quartz + PEEK |
| 70-803-0788 | 0 - 1.0 | 0.03 - 1.0 | 0.055 | Borosilicate glass + PEEK |
| 70-803-0890 | 0 - 4.0 | 0.2 - 4.0 | 0.12 | HF resistant |
| 70-803-0892 | 0 - 0.05 | 0.001 - 0.05 | 0.033 | HF resistant |
| 70-803-0891 | 0 - 1.0 | 0.03 - 1.0 | 0.055 | HF resistant |
Non-aqueous solutions
The TruFlo is normally calibrated for aqueous solutions. With non-aqueous solutions, it can be reliably used to detect any change in the sample flow, but the actual flow reading will not be correct. If you routinely run non-aqueous solutions you can order a TruFlo calibrated for your specific application. You will need to specify what solution you are using and the TruFlo will be supplied pre-calibrated for your solution. When you order the TruFlo, simply add:
Part number 70-TFCAL, TruFlo calibration service.
QA Kit
The QA Kitis a convenient package combining the TruFlo Sample Monitor, Inline Particle Filter, Eluo Nebuliser Cleaning Tool and Eluo Adaptor for Inline Filter.
The Inline Particle Filter is easily inserted in the sample tubing between the autosampler probe and the nebulizer and greatly reduces the risk of a blocked nebuliser.
The TruFlo instantly detects any reduction in the sample flow due to particulates trapped in the filter.
The Eluo and the Adaptor provide a quick and effective way to back-flush the filter and minimize any downtime.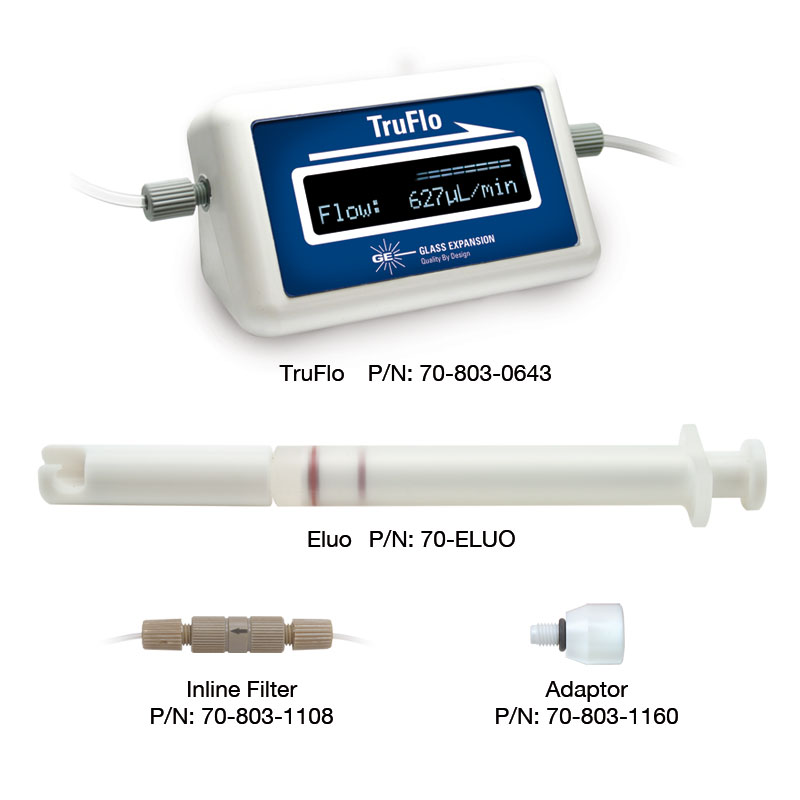 The QA Kit enhances the day-to-day reproducibility of your results and greatly reduces the chance of a blocked nebulizer.
Ordering Information
Comentarios de los clientes